Creative Solidarity: An Arts Benefit for the RDJ Refugee Shelter, June 3rd, 2017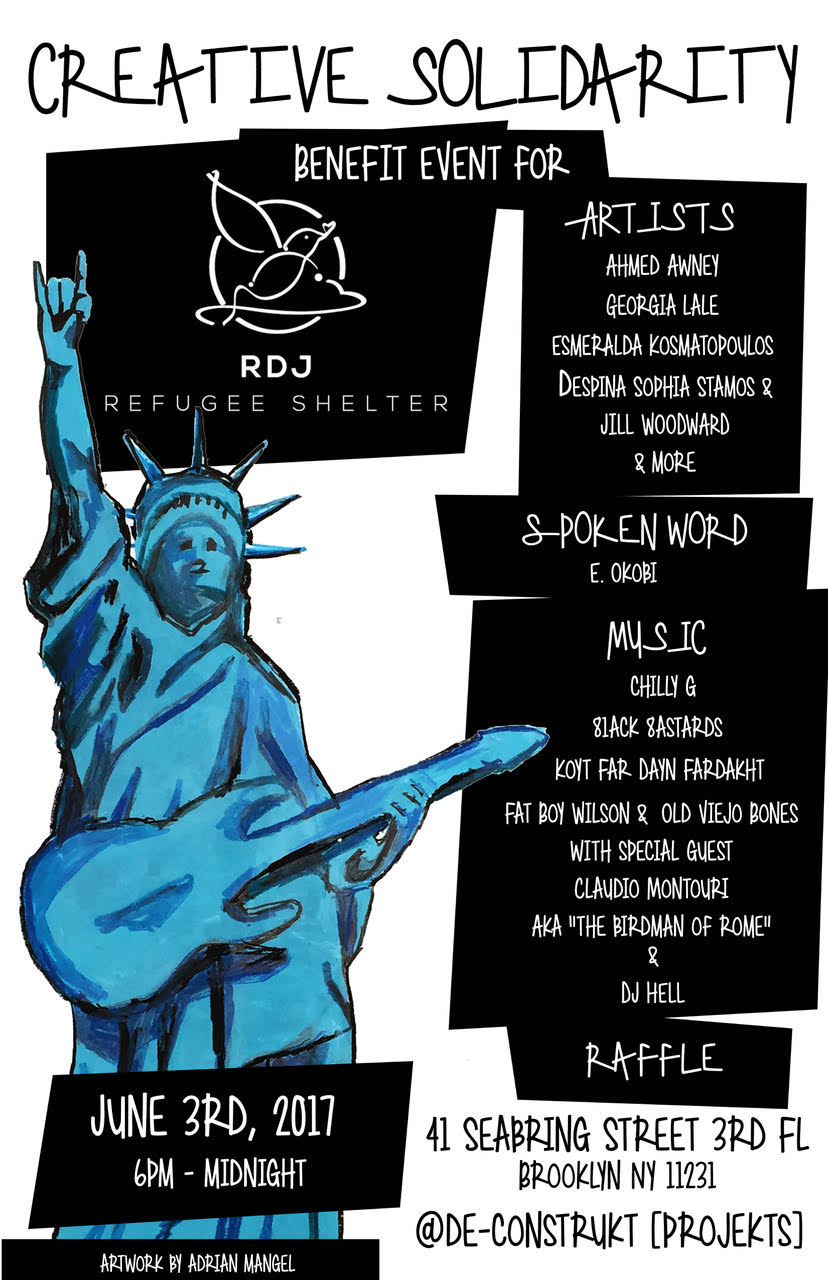 Creative Solidarity: An Arts Benefit for the RDJ Refugee Shelter
June 3-4, 2017
Opening Reception
 Thursday June 3 rd , 6:00 p.m
Location
41 Seabring Street, 3rd Floor
Brooklyn, NY 11231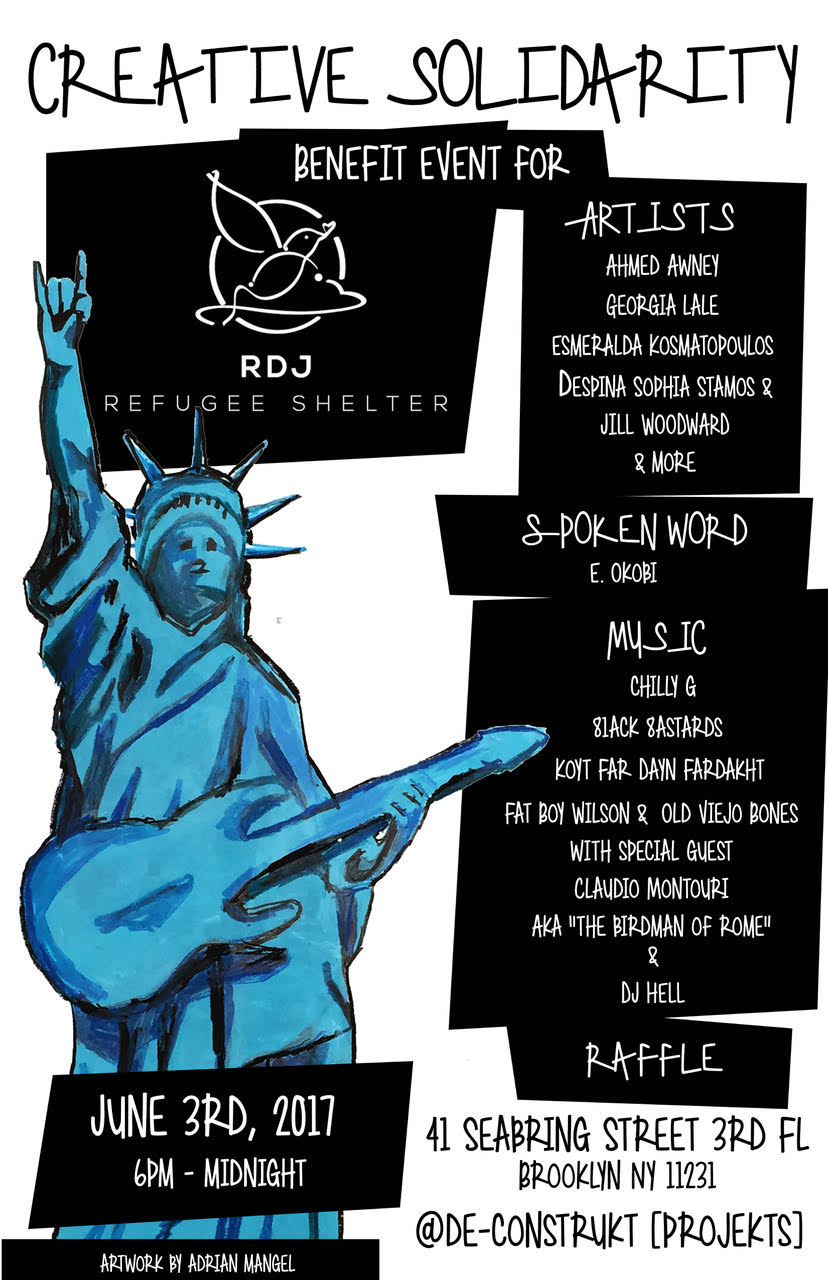 Join us June 3rd at 6pm at DE-CONSTRUKT [projekts] for an evening of creative solidarity in support and celebration of the RDJ Refugee Shelter, the only shelter in New York City specifically for homeless asylum seekers and refugees.
This will be an important and exciting evening of food, drinks, music, performance, storytelling, a raffle and much more–with all proceeds benefiting the RDJ Refugee Shelter!
The Shelter, along with DE-CONSTRUKT, promotes the work of artists, performers, musicians, and activists, created by and in support of asylum seekers living in New York City. The exhibit will include photographs, video, mixed media, and furniture–the result of a furniture refurbishing workshop for shelter guests run by exhibited artist, Ahmed Awney.
Visual and performance artist, Georgia Lale will feature her photographs from her performance art project entitled #OrangeVest, which confronts the refugee crisis in Europe with public interventions performed at sites such as the United Nations, The National Mall, and beyond. Esmeralda Kosmatopoulos, a multi-disciplinary conceptual artist, will be showing photographs. Her work investigates the definition and construction of identities, personal memories, culture and collective histories in the post-Internet age. Ahmed Awney will be featuring his latest works–a set of photographs titled "The Fourteen Stations of a Refugee" based on the Stations of the Cross, a Catholic devotion that commemorates Jesus Christ's last day on Earth as a man. He will also elaborate on his workshop program created in collaboration with the RDJ Shelter. We will screen a short documentary titled "Bodies of Resilience" directed by Jill Woodward and choreographed by Despina Sophia Stamos.
Performance and musical acts will include musicians and spoken word artists from all genres with songs of resistance, revolution, and solidarity. Musical talent will comprise of the empowering NYC-based bands Koyt Far Dayn Fardakht, a queer/trans anti-zionist Yiddish punk band, and Fat Boy Wilson & Old Viejo Bones performing folk blues and songs of resistance with a special guest Claudio Montouri aka The Bird Man of Rome and 81ack 8astards, a Hip-Hop, Jazz, and Rock Band Duo whose music discusses the raw material and sociopolitical subject matter that affects the urban and ethnic youth population. Multimedia artist E. Okobi will perform spoken word, and musician Chilly G will present poetry and songs.
We will end the evening with DJ Hell, a veteran composer, sound designer, experimental club DJ/turntablist, and video director/producer, creating barrage collages of big beats and noise, seaming together multiple music genres, cultures and generations.
Throughout the night, there will be various opportunities to donate to RDJ Shelter. All donations are graciously accepted. If you are unable to attend but would still like to donate please do so through Eventbrite website by clicking register and then donation. Thank You!
Stay tuned as we add more programming to the evening. We hope you will be able to join us.