"IS THAT A GUN IN YOUR POCKET" November 4, 2017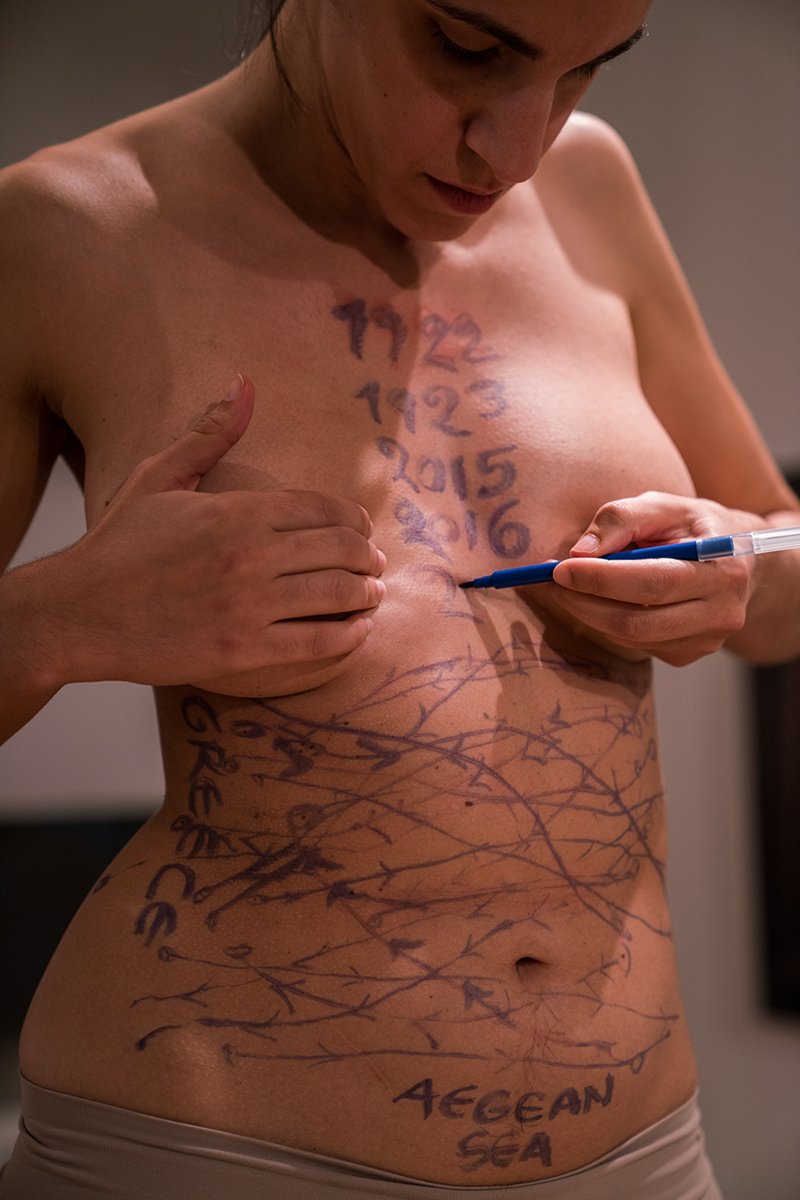 IS THAT A GUN IN YOUR POCKET? A TRIBUTE TO MAE WEST
PLEASE JOIN US FOR
AN EVENING OF PERFORMANCE  @ STUDIO 10
SATURDAY NOVEMBER 4 from 6:00 P.M.
56 Bogart Street Brooklyn, NY 11206
Is That A Gun in Your Pocket
 presents performances by five women. 
Marcela Casals 
repetitively folds white napkins into lotus flowers highlighting labor performed for elite diners. 
Kara Hearn (
karahearn.com/
) 
invokes magic and /or ritual to heal global imbalance
. Georgia Lale
(
lalegeorgia.net
) 
uses
her stomach as a surface to trace trajectories of refugees crossing the Aegean Sea while 
Boryana Rossa (
boryanarossa.com/en
) 
pits the superficiality of a model shoot against contemporary media coverage of the refugee crisis -with 
Shannon Stovall
 (
http://shannonstovall.com/
) and
JoAnn Arosemena Navarro performing as models.
Curated by Perry Bard  
 GENETIC MEMORIES by Georgia Lale
The artist will connect moles that appear on the sides and exterior of her torso to create direction lines over her stomach in an attempt to map and visualize refugees' passage over the Aegean Sea with markers. The right flank of the torso will symbolize the Turkish seashore and the left flank of her torso will symbolize the Greek one. The artist's stomach becomes the Aegean Sea. Over the centuries, the Aegean Sea witnessed several tragedies and many deaths during war and forced migration.
In 1922, a religiously based population exchange occurred between Greece and Turkey. Over two million people were forced to migrate by crossing the Aegean Sea. The artist's grandfather experienced the forced migration as a five-year-old child.  Since 2015, the ongoing refugee crisis in the Middle East is bringing the migration nightmare back to the Aegean Sea. Over one million Syrian, Afghan, and Iranian refugees have been crossing the sea in order to escape war and persecution, almost 4,000 feared drowned.
In psychology, genetic memory is a memory present at birth that exists in the absence of sensory experience, and is incorporated into the genome over long spans of time. It is based on the idea that common experiences of a species become incorporated into its genetic code, not by a Lamarckian process that encodes specific memories but by a much vaguer tendency to encode a readiness to respond in certain ways to certain stimuli.