"In Crisis" Performance by Georgia Lale in Athens, Greece, May 15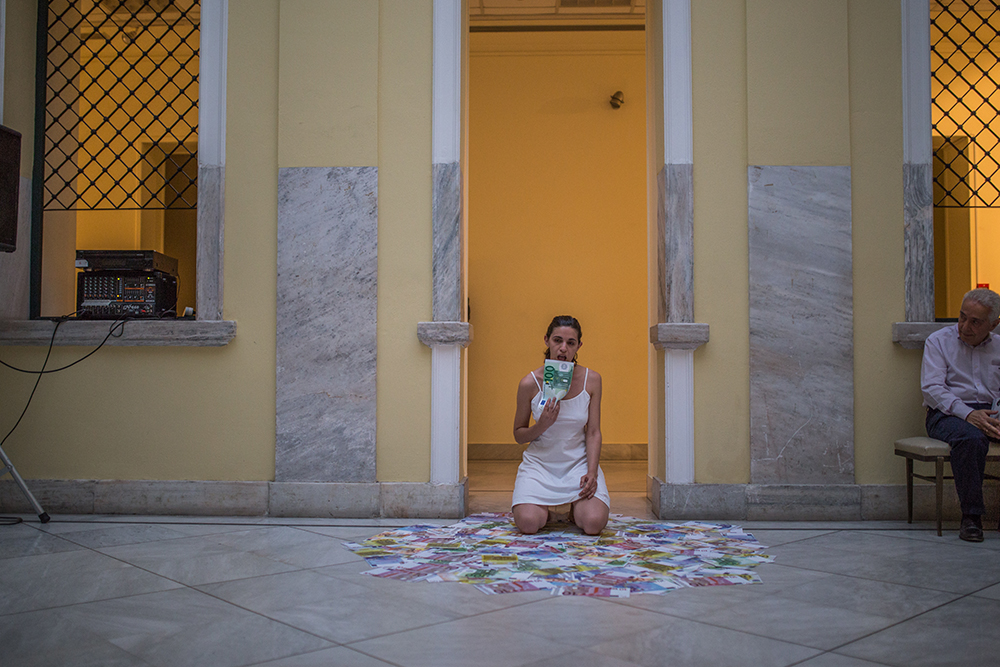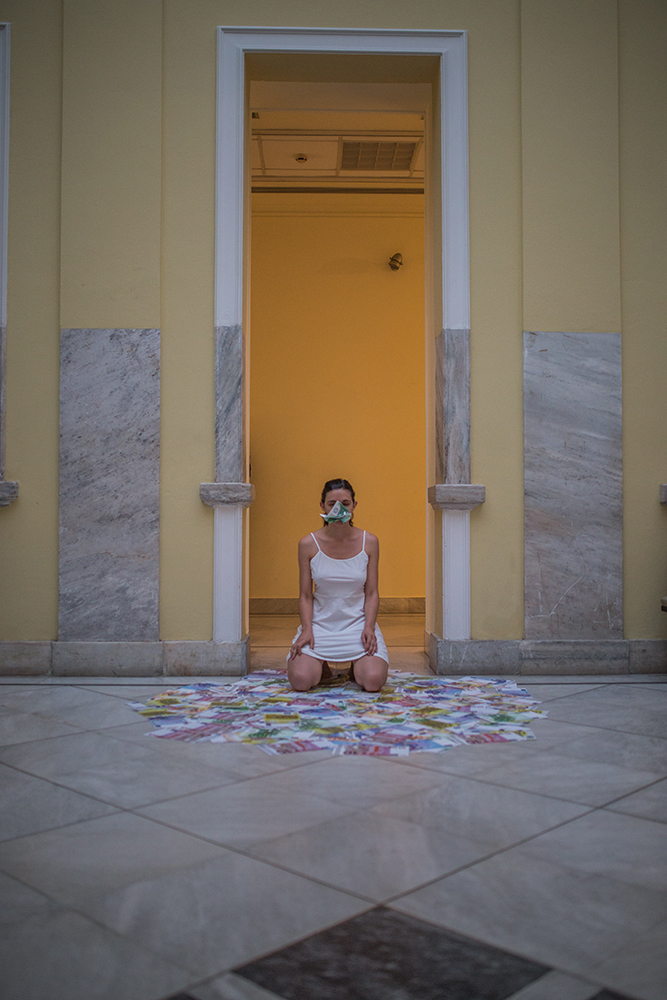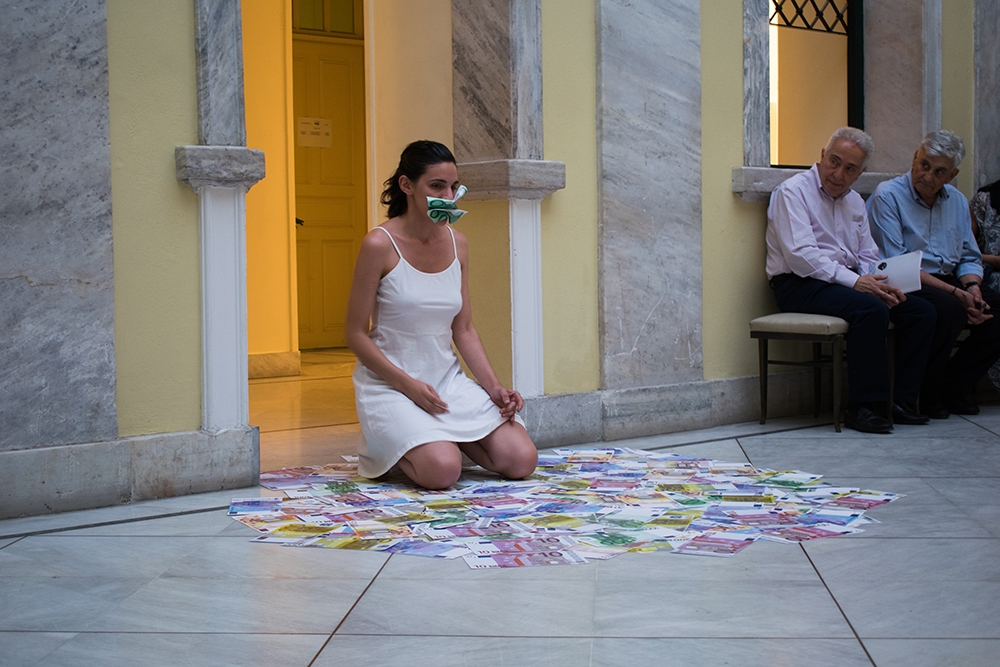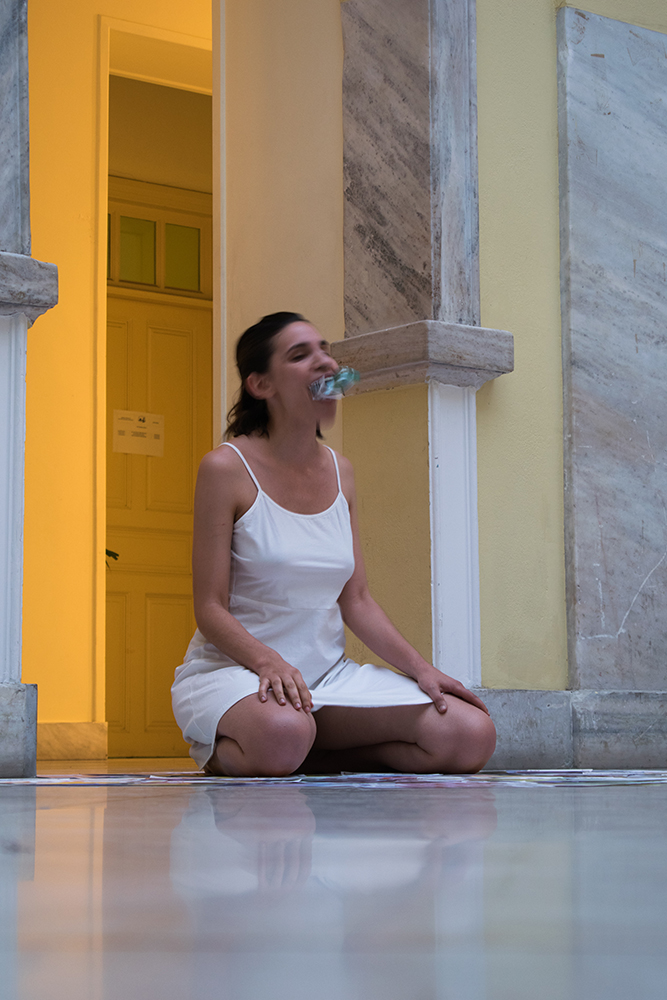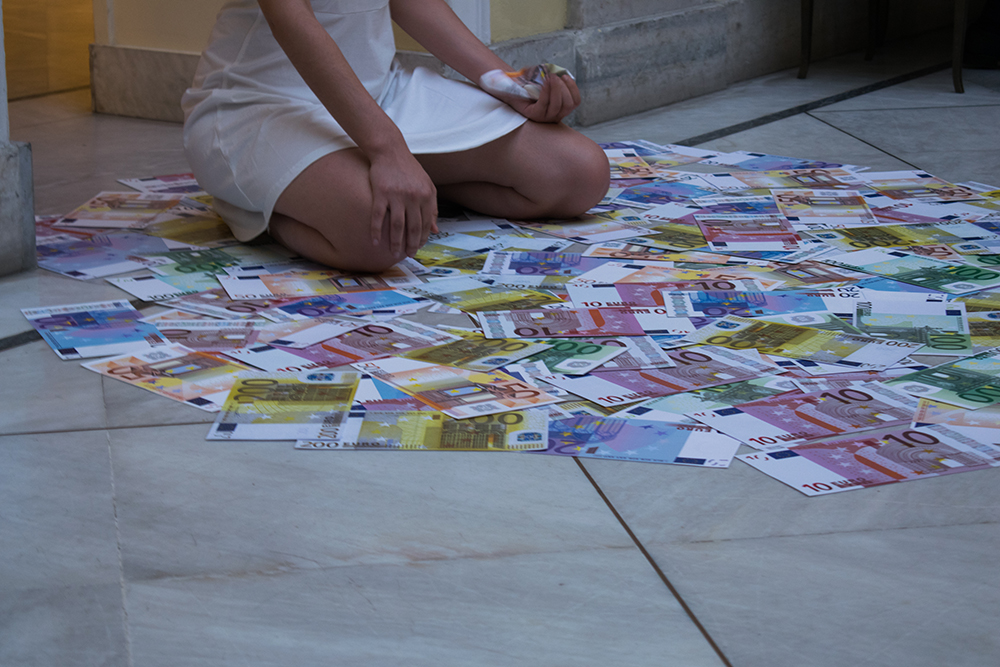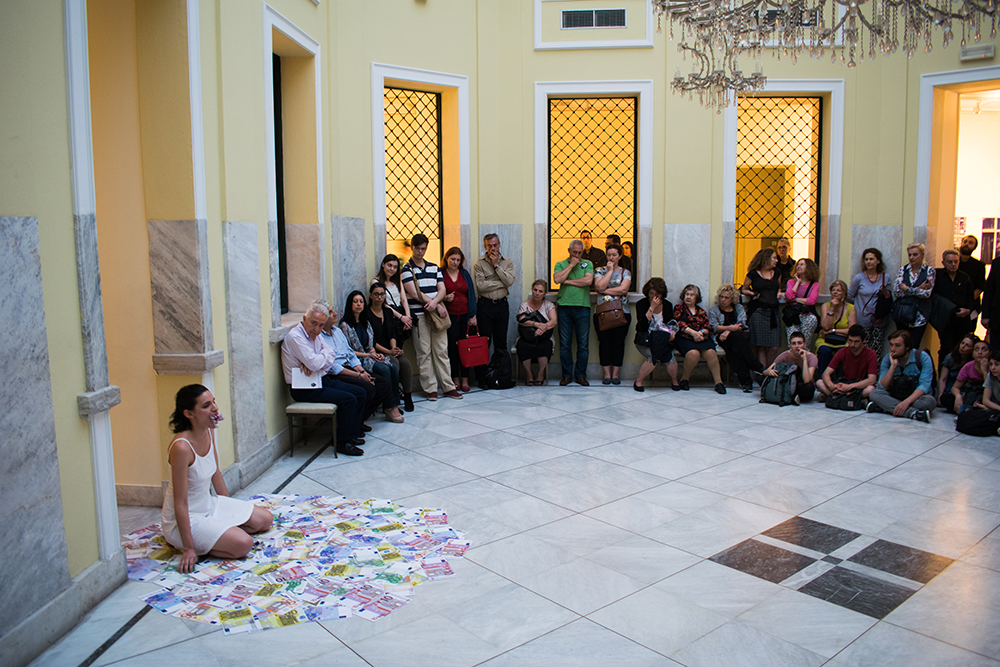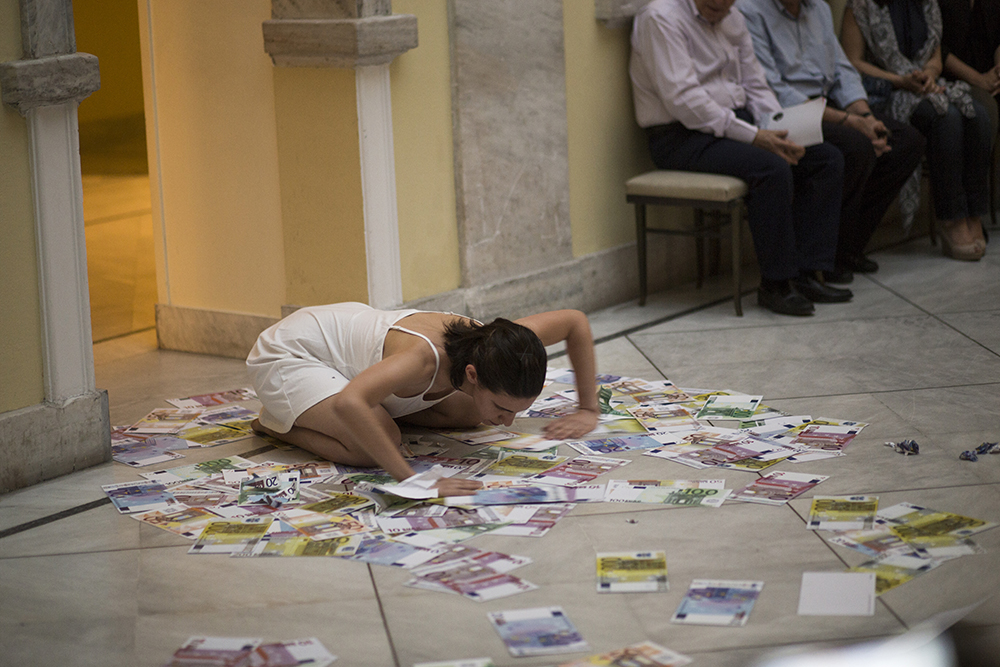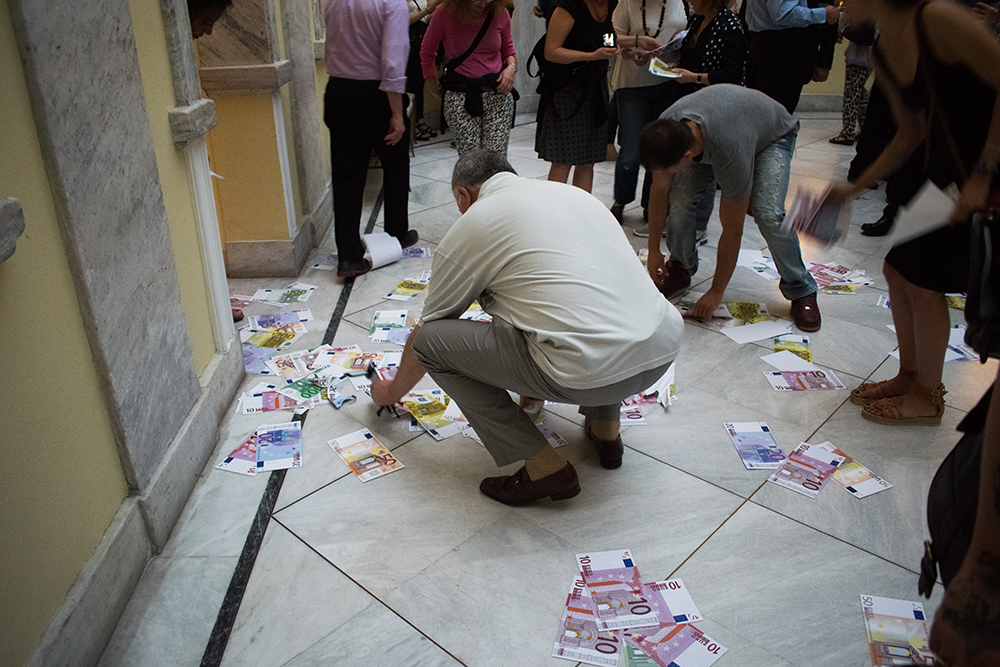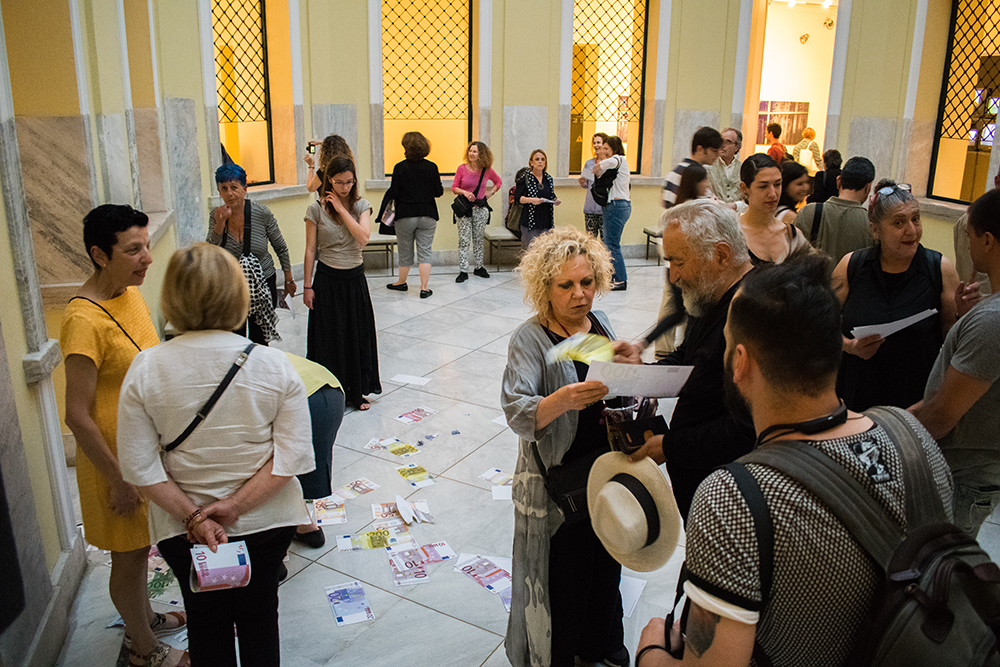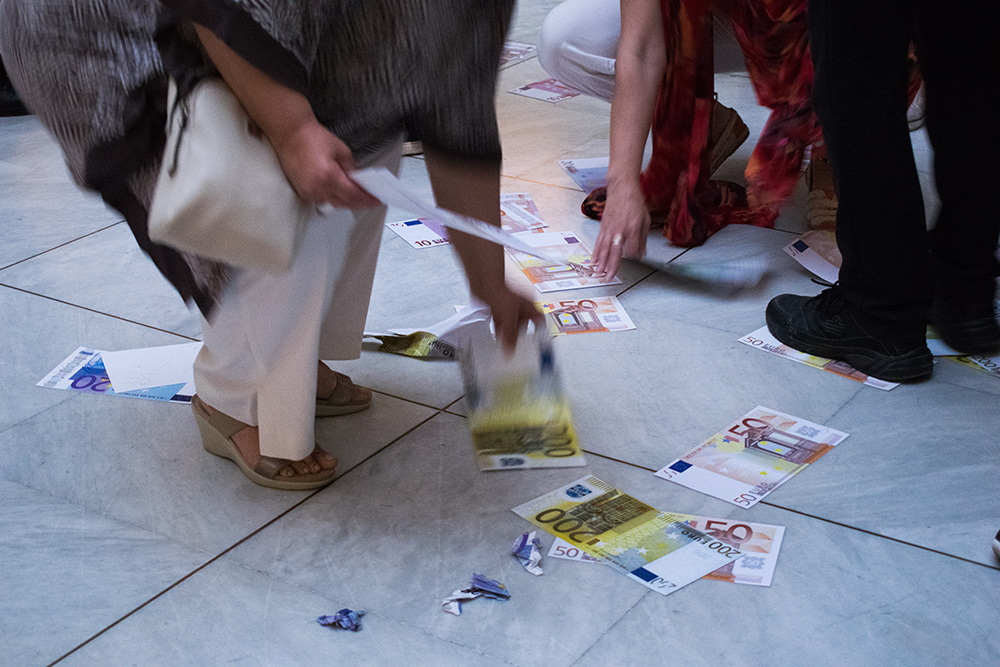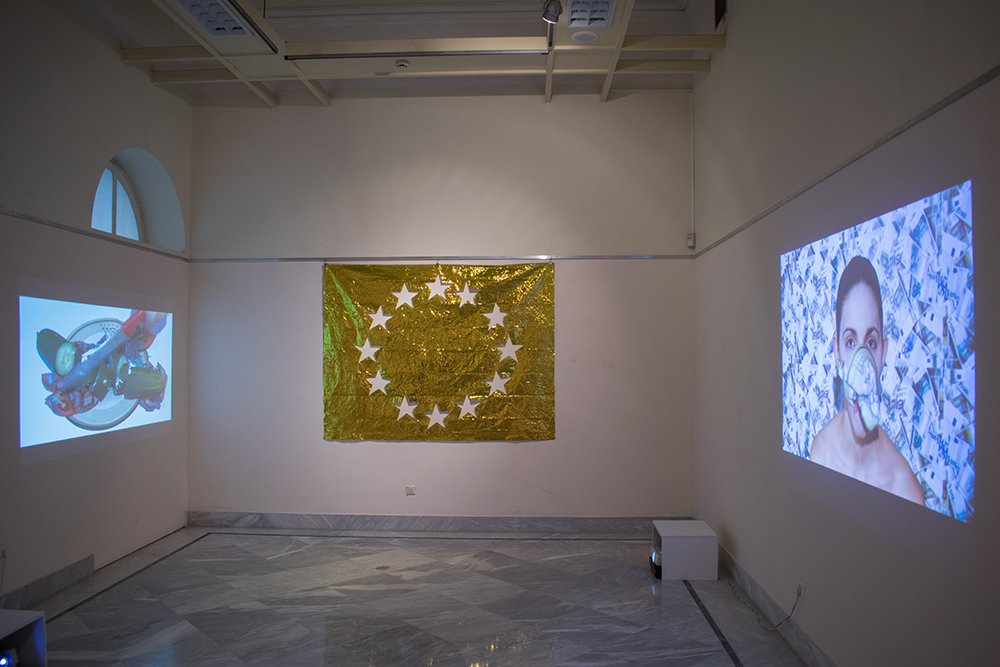 Tidal Flow Revisited group show
"In Crisis" performance
Municipal Gallery of Piraeus, 29 Filonos str., 185 31 Piraeus
The Greek-American artist Georgia Lale, is coming back to Athens after 3 years in order to perform the In Crisis piece at the opening night of the Tidal Flow Revisited group show at Municipal Gallery of Piraeus in May 15, curated by Jenny Tsoumpri. The performance is a commentary on the financial and moral crisis in Greece.  Back in 2010, the politician Theodoros Pangalos, made the statement that all people of Greece, himself included, took advantage of public money in order to profit. That was how he explained the uprising financial crisis in Greece. His exact words were: "Μαζί τα φάγαμε", "We ate them (the money) together". That was an extreme immoral statement, considering the fact that it includes hard working people and the new generation of citizens that haven't been involved with the mismanagement of the public wealth. The new generation people in Greece are suffering the most from the misappropriation of power.
As part of the In Crisis performance, Georgia Lale will be eating and stuffing her mouth with enlarged paper EURO bills, self-torturing herself as a symbolic action of the suffering and the struggles her generation is going through. A generation that has to pay for the sins of the people that were rolling the country the last 30 years. Now, the Greek society is expecting from the artist's generation to be sacrificed and build a future under the shadow of austerity and bankruptcy in order for Greece to go through the financial crisis.
About Tidal Flow Revisited
The Tidal Flow Revisited is a group show curated by Jenny Tsoumpri. It is an art show that intends to present the art works as an adventure of the mind. A non-negotiable theory which is difficult to grasp. Does the viewer have to show restraint? Does he have to flatter? Discuss? Perhaps it only needs his attention. It is a journey to the core of the human phase where something happens. Where the sequential change of knowledge is given in pictures and in concepts. Where knowledge meets philosophy. The artwork projects an image, but, at the same time, it is a form of work and action. It is a projection of the inner ego, what we call internal necessity, but for me the most important and the less obvious, is the philosophical approach in response to the request of the universal life that we live.
Participating Artists: Αγγελος Αντωνόπουλος, Αρτεμις Αλκαλάη, Αμαλία Αντωνιάδου, Ανθή Ζάχου, Γιάννης Ζιώγας, Πηνελόπη Κουβαρά, Σοφία Κυριακού, Georgia Lale, Δήμητρα Λιάκουρα, Μανώλης Μεραμπελιώτης, Χρήστος Μπληγιάννος, Βικτώρια Νταρίλα,Γιώργος Παλαμάρης,Μαρούσα Παράβαλου,Περικλής Πραβήτας, Μαίρη Ρουσιώτη,Χριστίνα Σημαντήρα, Ηλίας Σιψάς, Μαρία Σχινά, Βαγγέλης Χατζής , Ayis Zita, Laura Dodson, Spy.